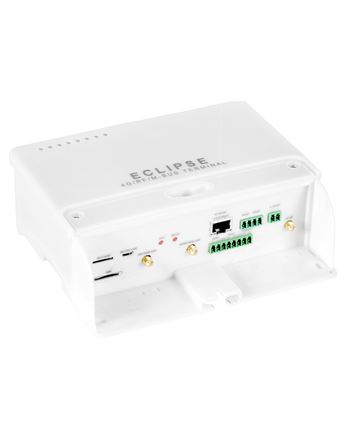 Linux 3G/4G/RF/M-Bus
Data Concentrator
ECL-DC-T7 enables hybrid communication over wired RS-485, M-Bus, Ethernet ports and wireless RF, M-Bus ports.
The data can be stored and processed thanks to embedded Linux operating system and 256 Mbyte RAM, before being transmitted to central servers over 4G/3G networks.
ECL-DC-T7 can host 32 devices over RS-485, 32 devices over wired M-Bus, 32 devices over wireless MBus and 32 devices over wireless RF connection concurrently.
Digital inputs and outputs are optional interfaces provided. ECL-DC-T7 provides robust and efficient networking.
ECL-DC-T7 enabling cellular speeds up to 150 Mbps for downlink and 50 Mbps for uplink, offers an ideal solution for the challenging requirements of high bandwidth mobile computing, metering solutions, video security solutions, medical equipment, payment systems and gateway routers.
LTE FDD: Max 150Mbps (DL)/Max 50Mbps (UL)
LTE TDD: Max 130Mbps (DL)/Max 30Mbps (UL)
DC-HSDPA: Max 42Mbps (DL)
HSUPA: Max 5.76Mbps (UL)
WCDMA: Max 384Kbps (DL)/Max 384Kbps (UL)
EDGE: Max 296Kbps (DL)/Max 236.8Kbps (UL)
GPRS: Max 107Kbps (DL)/Max 85.6Kbps (UL)
SMA Antenna Connector
Easy to use Push-n-Eject SIM Card Connector
Fully compatible with all GSM operators
Wi-Fi 2.4GHz
Embedded RF Module – 868 MHz systems up to 32 connections
Wireless M-Bus, IEEE 802.15.4g up to 32 slaves
Supports Over-the-Air (OTA) Update
Supported Functions
Real Time Clock (RTC)
Hardware watchdog
Programmable LED Status Indicators
TCP/UDP/PPP/FTP/FTPS/HTTP/HTTPS/NTP/PING/SMTP/SSL/MQTT/FILE support
Real Time Monitoring
IPv4/IPv6 Support
DLMS/COSEM, M-Bus Support
AES-256 Data Encryption
E2E Secure Channel (DTLS, Certificates)
Push/Pull/Poll Comm. on flexible schedules
Timestamping
Event Logs
FCC, IC, IP54
PTCRB
R&TTE/CE GCF RoHS/WEEE/CCC
GSM 07.07, GSM 07.05, GSM 03.40, GSM 04.11, GSM 03.38, GSM 11.10-1, GSM 02.30, GSM 03.90, GSM 11.14, ITU-T V.25ter, SMG31, GSM 05.02, ETSI 07.60, ETSI 0.7.07